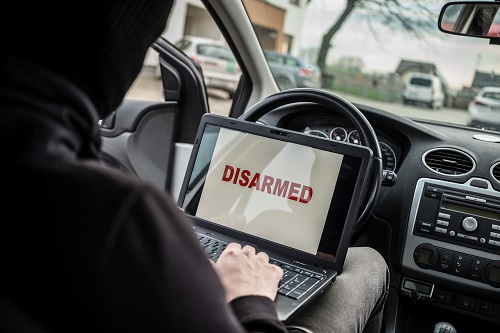 Leeds has unfortunately gained itself an unnecessary reputation of being one of the country's biggest hotspots for car theft. It will go without saying that every single person in the Leeds area will either know somebody who has had their car stolen or will have had their own vehicle stolen themselves. It is a massive shame that, in Leeds, car theft has become something that the locals are used to experiencing – the following statistics should act as a real eye opener to the car theft issues in Leeds.
Recent statistics have highlighted that across the whole of the UK, Leeds is home to the third highest vehicle crime rate. Not only is the quantity of car crime exceptionally high, but there is a stark contrast between the crimes themselves and the actual quantity of thieves who face justice for their crimes. For example, in November 2019 alone, there was a staggering 660 car crime incidents. Shockingly, a mere two of these 660 incidents were eventually taken to court. Of the remaining incidents, 71 of these remained under investigation. However, this ended up leaving a massive 571 incidents' investigations being closed as there wasn't a suspect identified.
This could leave innocent vehicle owners in fear of not only having their car stolen, but the thieves getting away with it – this could often lead to the vehicle owner having to fully pay for their new vehicle. And the fact that it is recorded that there is no suspect identified in almost nine out of 10 car crimes in Leeds only goes to show that vehicle owners do have every right to be concerned. Even if the case does end up getting taken to court, there were 15 cases in November where the suspect was unable to prosecuted, and one further case where it was not deemed to be in the public interest to investigate the case.
There are, however, some positives to be taken in Leeds in recent times when it comes to car theft. Although there is still a very high amount of offences to be eradicated, the figures began to decrease in 2019. There have been 297 less vehicle thefts since April 2019 and 754 less cases of items being stolen from inside a vehicle. The West Yorkshire Police have been trying to clamp down on reducing the car crime rates in Leeds and their proactive work is starting to show some very positive progression.
In order to assist the West Yorkshire Police in their mission, and to protect your own vehicle also, there are several things you can do to make it harder to thieves to get into your car:
Click here to view our large range of car or insurance trackers
• Invest in one of our GPS vehicle trackers
• Always lock your vehicle doors
• Never leave your keys inside the car door
• Make sure your spare key is kept far away from your car
• Always make sure your vehicle's windows are closed
• Park your car in well-lit areas
• Keep valuables in the home and not in the car
• Remain vigilant at all times