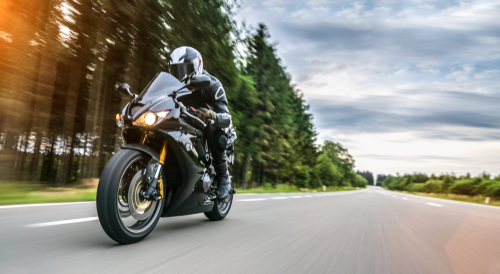 Top Tips to Protect Your Motorbike
Unfortunately, vehicles are regularly stolen around the UK. Not only can it be a huge inconvenience, but it can also shatter your confidence and make you feel a little more vulnerable. Motorbikes have a much higher chance of being stolen than any other vehicle, so if you own one it's important that you are taking the necessary steps to protect it.
According to the Met Police, over 9,000 scooters, motorbikes and mopeds were stolen in London alone in 2019. What's more, it is estimated that only around 40% of motorbikes are recovered after they have been stolen. So, what can you do to reduce the risk of your motorbike being stolen, and can you do anything to deter would-be thieves?
Simple but effective
There are a number of straightforward methods you can employ to help protect your motorbike from being stolen. A lock is an absolute essential. You can use a number of different locks to help achieve your goal. A disc lock can help to secure the front brake disc, or a grip lock to secure the brake and throttle controls. You may also wish to use a D lock on the front wheel, as this can stop it from being wheeled away.
In some cases, your motorbike may be stolen by the thief breaking the steering lock and wheeling it away. Consider a chain lock through the back wheel and secure your bike to an immovable object.
If your motorbike is stored outside, putting a cover over it may help. This is because it creates more effort for the thief in having to remove it, and it can help to disguise the make and model of your motorbike.
Store your motorbike securely
It's important to store your motorbike somewhere safe. The best places include a shed or a garage. However, if you don't have either of these, consider storing your bike in a well-lit area that is well overlooked, and preferably near to your home.
This is important as it could act as a deterrent for thieves, with the chance that they could be seen by others.
Invest in a GPS tracker
Sometimes, you can't avoid your vehicle being stolen. However, you can increase your chance of knowing what happened and retrieving your motorbike by installing a GPS tracker for motorbikes.
Our motorbike trackers are Thatcham approved, which could even help you save money on your insurance policy. Thatcham approved means they have been rigorously tested and offer proven technology and features.
GPS trackers for motorbikes include helpful features including geo-fence movement, along with regular updates on the vehicle's position both when it's moving and when stationary. Our trackers are fitted covertly, with a simple black box, which can reduce the chance of thieves spotting it and trying to remove it.
A tracker can be incredibly helpful for recovery, and it can increase your chance of getting it back or possibly even catching the person who did it.